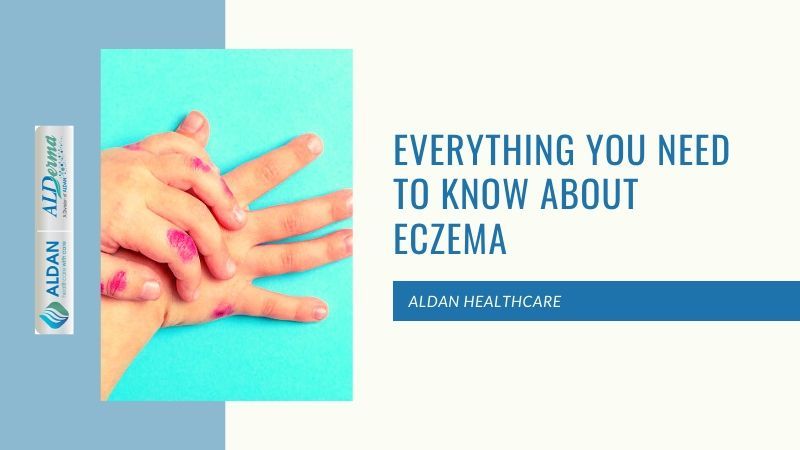 26 May

Eczema and Skin | Eczema Causes, Types and Symptoms

Here in this blog, you will be familiar with Everything You Need to Know about Eczema, Eczema Causes and Symptoms, Eczema Elimination Diet and Foods That Cause Eczema………….

Eczema is a condition that causes a person to develop patches of dry, itchy skin on their body. It often develops as a result of inflammation in the body. This skin condition is very common in children, but adults can get it too.

Hereditary and environmental triggers play an important role in developing this condition, but its cause isn't clearly understood till now. Many children "grow out" of eczema and experience few to no outbreaks as adults.

Treatment for eczema mainly focuses on healing damaged skin and alleviating symptoms. However, there is no complete cure for this skin condition available till date.

But some over-the-counter creams, such as Eczela, manufactured by Top Dermatology Pharmaceutical Brands depending on Eczema Types can help in reducing the inflammation.

[

Note: we have discussed about Eczela in detail in the last section of this blog.

]

In addition to that, bringing some lifestyle and dietary changes can also do miracle in treating this skin condition.
Eczema Symptoms
Eczema symptoms vary according to the age of the person, but often include some common signs, which is discussed below:
Dry skin
Itching, which may be severe, especially at night
Red to brownish grey patches of Eczema on hands, feet, neck, upper chest, ankles, inside the bend of the elbow and knees, and in infants, the face and scalp.
Small, raised bumps, which may leak fluid and crust over when scratched
Thickened, cracked, and scaly skin
Raw, sensitive, swollen skin from scratching
If you experience the above mentioned then you must seek immediate medical attention to get the required treatment.
Eczema Pictures
Eczema Causes
Doctors are not sure what exactly causes eczema, but they believe that many factor play a role. Healthy skin helps retain moisture and protects you from bacteria, irritants and allergens.
These factor might include a gene mutation that affects a protein called Filaggrin, which develops a protective barrier on the skin. This mutation could leave the skin vulnerable to irritation and infection.
However, Eczema is related to a gene variation that affects the skin's ability to provide this protection. This allows your skin to be affected by environmental factors, irritants and allergens.
In addition to that, many people with eczema also have overactive immune system. When they encounter a trigger, their immune system reacts by causing skin inflammation. In some children, food allergies may play a role in causing eczema.
Is Eczema Curable?
No cure has been found for eczema till date. But treatments and self-care measures can relieve itching and prevent new outbreaks.
For example, avoiding harsh soaps, moisturizing your skin regularly, and applying Eczema Treatment Cream or ointments can help in reducing inflammation. Apart from that, eating food that do not trigger inflammation may also help in reducing symptoms.
Eczema Elimination Diet
Eating certain kind of food and eliminating others can be really very helpful in reducing the symptoms of eczema along with the inflammation.
Therefore, in this section we have mentioned some Eczema Diet Tips and Plan that should be followed strictly in order to get quick result.
Eczema Safe Foods
For people with eczema, eating certain foods can trigger the body to release immune system compounds that causes inflammation, which in turn, contributes to an eczema flare-ups. An anti-eczema diet is similar to an anti-inflammatory diet.
Examples of anti-inflammatory foods include:
Foods high in inflammation-fighting flavonoids, examples of these include vegetables like broccoli, spinach and some Fruits Good for Eczema such as apples, cherries, etc.
Fish, a natural source of omega 3 fatty acids that can fight inflammation in the body. Examples of fish high in omega 3 fatty acids include, sardines, salmon, etc.
Foods high in probiotics, which are bacteria that promote good gut health. Examples include yoghurt with live and active cultures, miso soup. Other fermented foods and drinks, such as sauerkraut, kefir, also contain probiotics.
Eating more of these foods and cutting down on any trigger foods could help to reduce eczema flare-ups. One can also go for some external treatments like medication, marketed by Dermatology Product Manufacturers in India for reducing inflammation.
Foods That Cause Eczema
What you eat may not directly cause eczema, but it can trigger an increase in the symptoms. This is especially true if one eat a food that they're allergic or otherwise sensitive to.
Common food allergies include:
Dairy products
Eggs
Soy
Nuts
Foods containing preservatives and artificial ingredients may also exacerbate symptoms. This includes foods high in Trans-fats, such as margarine, processed foods, and fast food. Foods high in sugar may also trigger eczema flare-ups. Sugar causes the insulin level to spike, which results in inflammation.
Items typically high in sugar include:
Cakes
Some coffee drinks
Sodas
Fast food items, such as burgers, etc.
So, this was Everything You Need to Know about Eczema. Now, let's move to the next section to know about Eczela – Best Eczema Treatment Cream.
Eczela – Best Eczema Treatment Cream in India
Eczela, a product marketed by Aldan Healthcare, Top Dermatology Pharmaceutical Companies in India is considered as the best eczema Treatment Cream in India. This Eczema Treatment cream has got placed among-st the top-ranked evidence-based herbal treatment for eczema.
This product is manufactured from the extract of Nigella Sativa Plant, a miraculous medicinal plant having immense therapeutic properties. The seeds of the Nigella sativa have been widely used in the treatment of various other diseases too.
Furthermore, other components of Eczela includes
Carbopol – 1%
Tea tree oil – 0.5%
Glycerine – 15%
This product is a first time concept in India with immense benefits in dermatology and no side effects. However, with doctor guidance, one can weigh the benefits and drawbacks of any medications.
We hope that you have understood 'Everything You Need to Know about Eczema' and ways to prevent it. Also, if you want us to cover more information about eczema then leave a comment in the comment section box below.
Till then, Stay Tuned……………